Both items in quilt making were generously shared by Chinchilla. Please be sure to visit

INTRODUCTION TO QUILTING
by Chinchilla
The Basics
So you've decided to make a quilt to pass down through the generations. Or maybe as a way to commemorate important times and events in your child's or your own life. Or you could be a volunteer in an organization and a quilt is what was decided as a fund raising project. There are as many reasons to make a quilt as there are patterns. But no matter the reason, there is more to making a quilt than just sewing a few scraps of fabric together. There are a few basic things all quilters should know.
The fabric requirements for most quilts are based on a 44"/45" wide fabric and include shrinkage. This needs to be taken into account. If you choose a striped fabric and want all the stripes to run the same direction, you may need to add up to another yard. Also, material comes in different widths. Muslin, for instance, can be found in widths from 28" to 102". You will have to adjust your yardage accordingly. And don't fret if you buy more than you needed. I guarantee you'll find another quilt to use it in.
Though the fabric you purchased states "color fast", don't trust it. Wash, dry and iron all fabric before cutting your pieces. Approximately 90% of all fabric purchased has been treated with sizing. This sizing will slowly but surely "gum" up your scissors. In addition to this, the likelihood that fabric has been sitting out for some time on the shelf is very good. Dust, finger oil, and other contaminates have settled onto it.
Unless your pattern states otherwise, all seam allowances are 1/4". Most quilt piece templates, cutting directions for sashing, borders, etc. include this allowance, and a majority of templates have this indicted by a dashed line. If they don't, read any piecing directions that come with the quilt pattern.
Batting comes in rolls (bolts) and in pre-packaged amounts. The amount of batting and the size will depend upon the size of your quilt. Pre-packaged batting will have the size printed on the package. If you buy rolled batting, then you will have to buy a section as large as your quilt.
For most full-sized quilts, backing is made by sewing together two widths of fabric that are the length of the quilt plus 4" for hand quilting. If you machine quilt, you will need to add 8". King and queen sized quilts may need to have three widths sewn together. Smaller crib and twin quilts will generally require only one width. Once again, the width of the material will be of great value here when you plan your purchase.
Unless your pattern specifies differently, prepare for quilting by layering. Find a big space you can work at (I actually clear my living room floor on large quilts) and lay your backing down wrong side up. Then apply your batting and finish off with the completed top (right side up of course). Pin or baste the layers together working from the inside out.
I'm hoping I didn't scare you out of your decision to make a quilt. All of this information can be intimidating at first, but as you watch a pile of scraps slowly turn into a beautiful work of art and see the joy on the face of the one who receives such a labor of love, and that's what a quilt is, it makes all the work you have put into it worth more than words can say.

FLYING GEESE
An easy pattern for the beginning quilter, this pattern represents a wedge of wild geese migrating. When somber, autumn colors are used the image of geese flying south for the winter is brought to mind. By the same token, one can almost picture them flying back north when light, springtime patterns are incorporated.
Individual blocks consist of three triangles pieced together (see block assembly). These are sewn into columns which are then joined using strips of material that represent the season you prefer.
Block size: 2-1/2" x 5"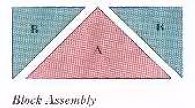 Quilt size: 74" x 93-1/2"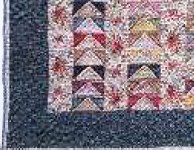 Materials needed
(all yardage is in 44"/45" width)
3-1/2 yards assorted light fabrics (for main triangle)
3-1/2 yards assorted dark fabrics (for smaller triangles)
3 yards of floral print for sashing
5 yards of colored print for border
7 yards for backing
1 yard for bias binding
Instructions
1. Follow the block assembly diagram to make 231 Flying Geese blocks.
2. Join blocks in 7 vertical rows of 33 blocks each.
3. Cut 8 strips from the floral print for sashing. Each strip should measure
4" x 82-1/2".
4. Join sashing strips to the Flying Geese strips, starting and ending in the sashing strips.
5. Cut 2 strips measuring 6" x 63-1/2" and 2 strips measuring 6" x 94" from the colored print for border pieces.
6. Join the shorter strips to the top and bottom of the quilt then join the longer ones to the sides.
7. Outline-quilt each A and B piece. Quilt the sashings and borders using a cable design. Bind with bias binding made from matching fabric.